About the limited-time shop at JR Nagoya Takashimaya Department Store
As we have suddenly begun to have cold mornings and nights, I feel for my blanket while in bed with increasing frequency.
Keep your physical shape up, everyone.
A limited-time shop was opened at JR Nagoya Takashimaya Department Store yesterday on August 27 (Wed).
http://www.jr-takashimaya.co.jp/shopinfo/140827shopinfo-12/
2014/8/27(Wed)~2014/9/9(Tue)
JR NAGOYA TAKASHIMAYA 9Floor
Our shop is surrounded by the aroma and fragrance shops, so you can enjoy looking at our AOYA washi lamps while savoring the good smell of those products.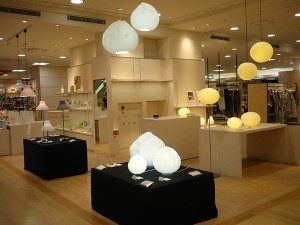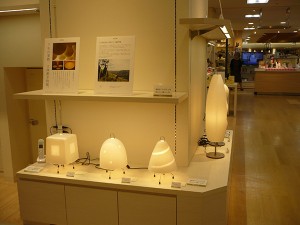 We have the entire collection of our products, including the Toshiyuki KITA series and Natural series as well as the by|n meister series developed in collaboration with nendo.
It seems that customers want to put our lamps in the Japanese-style rooms of their homes.
The comments that we have received from customers include "Washi really relaxes me" and "Just looking at it makes me feel refreshed."
The shop gives away copies of our catalog. Take one and find out about the products we offer.
Also, take the escalator to the ninth floor, where our Mokumoku and Mayu pendants are displayed.
I urge those of you who live in the Tokai area to come and see our products.