In sharp contrast to the spell of snowy weather we had till yesterday, there are patches of blue in the sky today.
Buds are swelling on trees. The season has finally arrived that brings colors back to the landscape.
This post is about an event that took place last month. We participated in the Japanese Living Craft Exhibition of NIPPON MONO ICHI held at Tokyo International Forum.
http://monoichi.smrj.go.jp/ (URL of the NIPPON MONO ICHI website)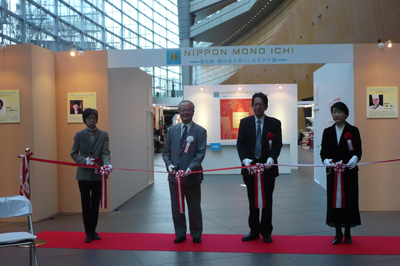 An event called MONO ICHI was held where six famous people were asked to choose products they liked, and our three-dimensional washi lamp was chosen by Ms. Shimoda, the editor of Modern Living magazine.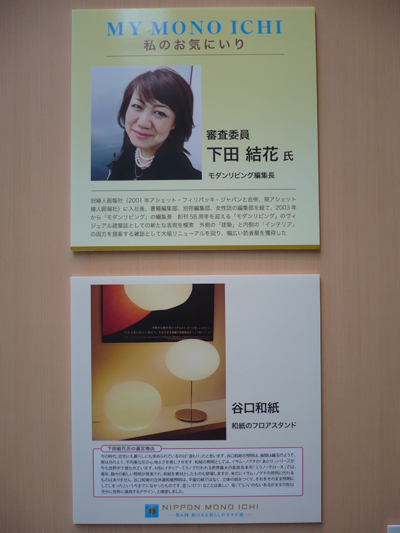 We were very excited. Here is the comment that she gave when announcing her choice.
"Instead of flat paper, the seamless three-dimensional washi lamp from Taniguchi Washi uses three-dimensional washi, which is quite unconventional. Irregular shapes are beautiful. This lamp has made me certain that unpretentious, "as-is" design is admirable by international standards."
We were extremely happy that Ms. Shimoda appreciated the substance of our work.
We were also glad that many people attended the event.
We thank those of you who came.
Our 3D washi lampshades also got online coverage.
・THE DAILY KOGEI
http://dailykogei.blogspot.com/2011/02/3d-washi.html
We appreciate the attention.
We will exhibit our products at the "Lounge of Japanese Design and Lighting" in the LIGHTING FAIR exhibition, which starts on March 8.
http://www.shopbiz.jp/lf/special/#harmonylounge
Rather than an "exhibit," our booth will be more like a "lounge" where people sit and relax to experience the effect and meaning of the light of lamps - something that no one has ever seen before.
Please come and see our products.