Because of the rainy season, which started on June 26, and the typhoon, we had heavy rain in Tottori this weekend.
Today, it has been drizzling nonstop since morning.
These bad weather conditions make us crave for sunny summer days.
I should have written about this much sooner, but we exhibited our products at the "Lounge of Japanese Design and Lighting" in the LIGHTING FAIR exhibition, which took place on March 8 - 11. I returned to Tottori after attending our booth only on the opening day.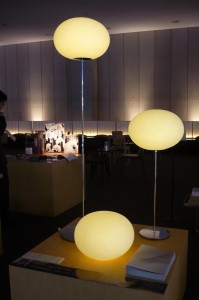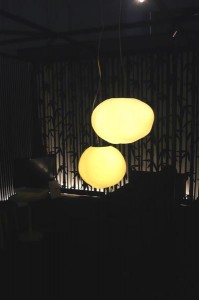 My coworkers told me later that the Great East Japan Earthquake occurred on March 11, the final day of the exhibition, throwing the people present at the site into a panic. That day, I was working on my PC when I learned the news about the earthquake, which turned out to be a devastating disaster.
We offer our deepest condolences to those who lost their lives in the Great East Japan Earthquake and extend our heartfelt sympathy to those afflicted by this disaster. We also pray for quick recovery of the affected regions.
Our booth was planned and organized by Mr. Hiroshi Nagane of Tokyo Design Party.
All the other booths of the LIGHTING FAIR exhibition featured LEDs as the main theme. In contrast, the "Lounge of Japanese Design and Lighting" offered an opportunity to think about the structure and meaning of light, adding a depth to our exhibit.
Japan now faces an unprecedented situation. Lights illuminating families in their homes matter even more at a time like this.
We keep this in mind when we create washi lamps.
We hope that our products bring heart-warming moments to as many people as possible.