It's been hot for some time now.
In many parts of Japan, schools have broken up for the summer.
The other day, we presented a letter of appreciation to the Tottori Institute of Industrial Technology, with which we often work jointly in research and development of washi and other activities.
They have also posted an article about this on their website. To read the article, go to:
http://www.tiit.or.jp/index.php?view=5430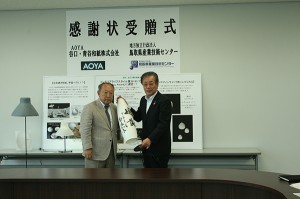 Our letter of appreciation is unlike others, with the Kanji characters meaning appreciation written on a Toh-floorstand (M) by calligrapher Hokai Shibayama.
(Director Murae, right, and Hirofumi Taniguchi, left)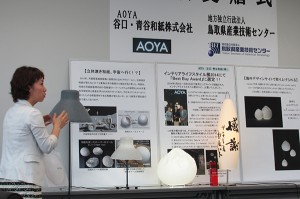 During the presentation ceremony, we explained our recent activities and new products.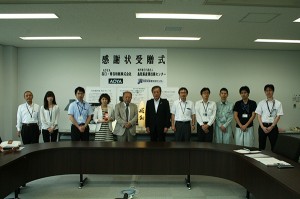 After that, we had a commemorative picture taken with the staff of the institute.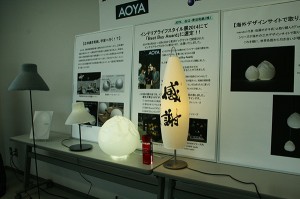 These are photos of the exhibition.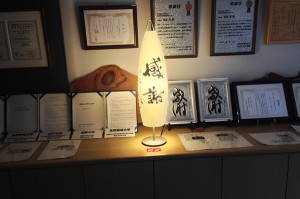 When put along with the letters of appreciation from other companies, ours stands out.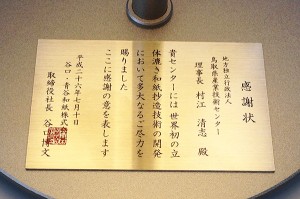 In addition to the word written on the shade, a letter of appreciation is attached to the metal plate.
If you would like a unique award certificate like this one, we would be happy to accommodate your request.
Please feel free to contact us.
Staff members of the institute, I think that there will be times in the future when we seek your cooperation and advice, as we have in the past. We count on your continued support.
Cicadas singing loud outside bring it home to me that we are in the midst of summer.
The "Innovation of a Thousand Years - Seamless Three-Dimensional Washi" exhibition, which started on July 17 (Thurs), is under way at the monova gallery on the fourth floor of Shinjuku Living Center OZONE.
We have products of our seamless three-dimensional washi series on display in the event space of monova.
Here is the URL of monova's website:
http://www.monova-web.jp/5074
・The products of the Toshiyuki KITA series feature compact and cute designs.
・The Natural series consists of Mokumoku and Moon lamps.
・The by|n meister series offers two categories of products: semi-wrinkle washi and bi-color washi.
The monova gallery boasts a huge collection of products that allows you to experience craftsman skills from various parts of Japan.
Professional staff will guide you through the collection of high-quality products.
Our exhibit continues through July 29 (Tue). I think you might want to put off the regular glaring lights and enjoy the relaxing washi lamps instead on a summer night.
Everyone is welcome to come and take a look.
My habit of putting things off always makes me have to post a bunch of articles at a time. I really need to get rid of this habit.
The Interior Lifestyle Exhibition was held in June.
The Tanakajima Furniture Shop approached us about our seamless three-dimensional washi at the exhibition.
They have decided to sell our products at their shop.
【Tanakajima Furniture Shop】
http://www.tanakajima.co.jp
Our products are featured not only on their website but also on their mail order catalog.
We appreciate their decision.
http://www.tanakajima.co.jp/news/news.html 
http://www.tanakajima.co.jp/news/vol5.html
Everyone, go and visit the Tanakajima Furniture Shop.