With silver grass in bloom and spider lilies starting to wither, there is now an air of autumn everywhere.
Today, I would like to share great news with you.
We applied for the 2014 Good Design Award competition, and our semi-wrinkle washi series won the award (sound of hand clapping)!
http://www.g-mark.org/award/describe/41012?token=6UosL3sLAS
We'll post details later.
The Good Design Exhibition starts inside the Tokyo Midtown complex at the end of this month.
http://www.g-mark.org/gde/2014/index.html
Please come and see our semi-wrinkle washi, everyone.
The January 1, 2014 issue of the Yomiuri (local edition) contains an article about our company.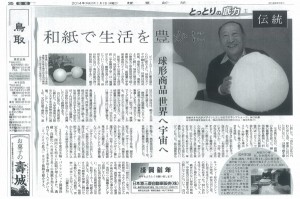 We are excited that the Yomiuri wrote about us in its New Year's Day issue.
They interviewed us in earnest several times, and we find the article substantially good.
In the blog, we only have a limited space to show the article.
If you would like to read the article, contact us at:
info@aoyawashi.co.jp
We would be happy to send you a copy of the article via email.
Although the Bon holiday is over, there is no sign of summer heat wearing off.
It seems to me that cicadas in my neighborhood sing at relatively long intervals (laughter).
In this post, I would like to tell you about the Rin crossing project that we are taking part in.
Last month, the project staff came to Tottori and interviewed us.
For details, see the website at the URL below:
http://rincrossing.smrj.go.jp/story/story14.php